Description
Deer hunters the world over dream of setting their pins on a giant Midwest whitetail. Well, there is no reason to wait until your name is drawn for a tag to put an arrow in one. Rinehart's new Midwest Buck 3D target will perfectly prepare you for the eventual hunt. Created to perfectly mimic the size of bruiser whitetails in big-deer country, the target stands 52 inches high and is 36 inches long, with a weight of 155 pounds. The Midwest Buck is constructed of the company's solid signature, self-healing foam, ensuring many years of arrow-stopping power. It also incorporates a patented locking insert, which easily pops out in the event you might need to replace the sweet spot (replacement inserts sold separately). Scoring rings, real-life sculpted features and airbrushed fine details ensure that your practice time will have you ready to face a real mature whitetail when the time comes.
The Midwest Buck has a simulated weight of 155 pounds.
Note: Some assembly may be required to complete this target as it ships cut and unassembled.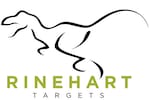 Made In United States of America
Specifications
Product Information
| | |
| --- | --- |
| Material | Foam |
| Style | Game Animal |
| Overall Length | 45 Inches |
| Overall Height | 58 Inches |
| Broadhead Compatible | No |
| Shootable Sides | 2 |
| Replaceable Center | Yes |
| Country of Origin | United States of America |
Delivery Information
| | |
| --- | --- |
| Shipping Weight | 51.194 Pounds |