Description
The Rise Armament Rave 140 Trigger offers extreme reliability through enhanced engineering. Rise's RA-140 Super Sporting Trigger (SST) was rated in the top 10 of all trigger groups by independent testers when it was released. It was praised for performance, reliability and value. Now it is even better as the Rave 140!
Most of the mil-spec parts featured in the RISE AR-15 Lower Parts Kit are made of the industry-standard 8620 steel. The 8620 carbon steel is a full-up alloy of nickel, chromium, molybdenum, with 0.2 percent carbon. It machines cleanly and is incredibly tough and strong. These properties make it perfect for the parts in the Lower Parts Kit. Meanwhile, the Safety Detent Pin and the Takedown/Pivot Pin Detents are made of yellow zinc. The pieces in the RISE Lower Parts Kit are highly wear resistant and are able to withstand the wear and tear of continuous shooting.
Many of the parts in the RISE Lower Parts Kit feature a black phosphate finish. The black phosphate finish deposits an inert layer on top of the steel to prevent the corrosion reaction from reaching the steel. The black phosphate finish also provides corrosion protection from extended shooting. Black phosphate finishes can be commonly found on drywall screws, frame bolts, and more.
Features
No take-up —Quik-Klik reset you can feel
Elementary installation — no set screws to tighten
Single stage, 3.5-lb. pull weight
Includes anti-walk pins for worry-free installation
Melonite-coated interior parts for enhanced strength and corrosion resistance
Kit Includes:
Rave 140 Trigger Group
Takedown/Pivot Pin Detents (2)
Bolt Catch Spring (1)
Safety Detent Pin (1)
Bolt Catch Plunger (1)
Bolt Catch Roll Pin (1)
Buffer Retention Pin (1)
Trigger Pins, 5.56 (2)
Safety Detent Spring (1)
Spring for Buffer Retainer, 5.56 (1)
Springs for Takedown/Pivot Detents, 5.56 (2)
Spring for Mag Catch (1)
Bolt Catch (1)
Safety Selector, 5.56 (1)
Magazine Catch Button, 5.56 (1)
Magazine Catch, 5.56 (1)
Pin for Receiver Pivot, 5.56 (1)
Pin for Receiver Takedown, 5.56 (1)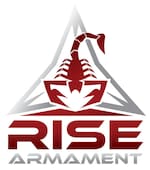 Made In United States of America
Specifications
Product Information
| | |
| --- | --- |
| Color | Black |
| Finish | Anodized |
| Material | Aluminum |
| Weight | 2.6 Ounce |
| Trigger Type | Single Stage |
| Country of Origin | United States of America |
| Pull Weight | 3.5 Pound |
| Pin Size | Small (.156″) |
| Compatible With | |
Delivery Information
| | |
| --- | --- |
| Shipping Weight | 0.798 Pounds |